We want players to have a great time on our site while also gambling responsibly. At Caesars Casino, you can set a 'Cooling off' period (also known as a self-suspension) if you need to take a break from wagering on our site. Cooling Off periods range from 3 days and go up to a maximum of 30 days; the choice is yours!
To set a cooling off period on your account, log into your account and click on My Account, select Responsible Gaming.

Click on Cool Off, select the number of days from the drop down and click on "Set Cool Off Period."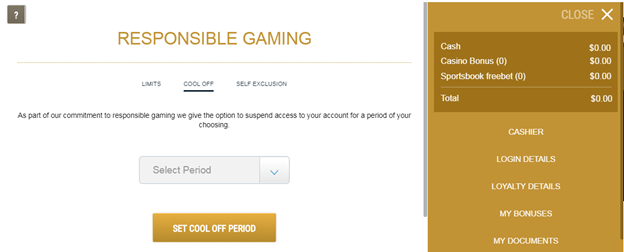 Please note- During your cool off period, you will not be able to access your account.
If you need to make a withdrawal during this time period please contact Player Support 24/7 at 1-800-986-9248.
Know When To Stop Before You Start.® If you think you or someone you care about may have a gambling problem, call 1-800-GAMBLER.