Yes, we do have virtual sports which include Virtual Cars, Virtual Greyhounds, Virtual Horses, Virtual Motorcycles and Virtual Soccer.

What are virtual sports?
Virtual Sports are a selection of scheduled fixed odds games (sports) that use a random number generator (RNG) to decide the outcome. All customers view the same schedules and the same outcomes.
Virtual Sports will comprise of the following products:
| | |
| --- | --- |
| Event | Event Type |
| Virtual Horse Racing | Flats/Jumps/Sprints |
| Virtual Greyhound Racing | Flats/Jumps |
| Virtual Soccer | Single Match |
| Virtual Cars | Single Race |
| Virtual Motorcycles | Single Race |
How do I place a single wager?
First select the sport that you want to bet on. When you have chosen, click on the price and your selection will then automatically appear on your BET SLIP.

Enter the amount you want to stake in the box provided, and your potential winnings will appear.
To place the bet click on 'PLACE WAGER'. The bet will then appear in "MY BETS"

For Virtual Soccer you have several different options. You can place a bet based on total goals, first team to score, last time to score, half time results. Etc. Again, your selection will appear in "BET SLIP" and then "MY BETS" once you "PLACE WAGER".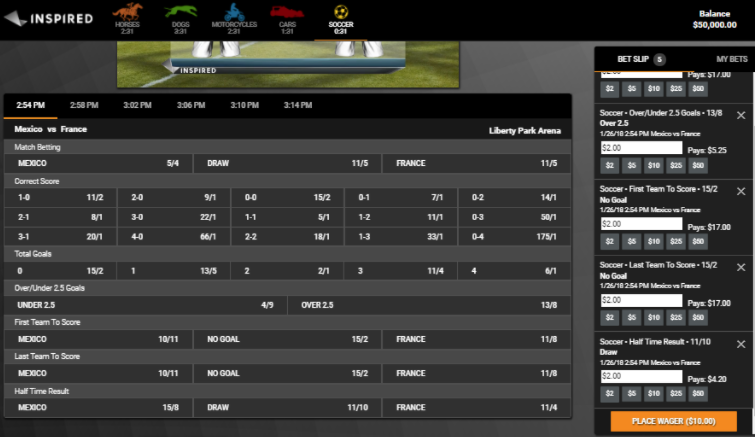 How can I place a wager?
To place a bet on a Virtual game, first select the game offering of your choice.
How do I place a pari-mutuel wager? Wait, what's a pari-mutuel?
A pari-mutuel is a bet which includes the racers (horses, dogs, cars, motorcycles) finishing in a specific order – either first and second (EXACTA) or first, second, and third (TRIFECTA).
To make a pari-mutuel bet on Virtual Horses, Virtual Greyhounds, and Virtual Cars simply select your 1st place option.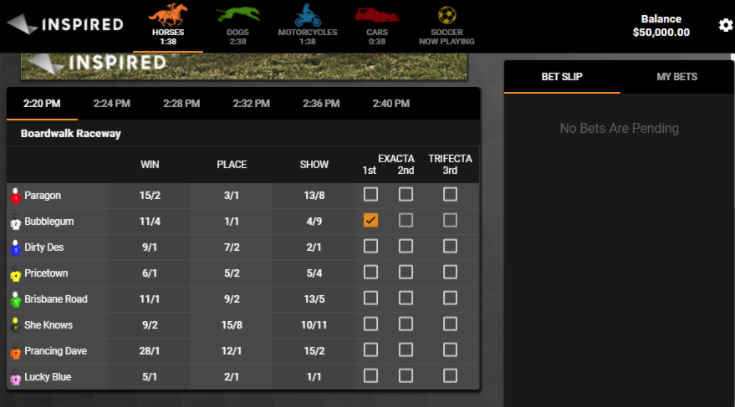 You will than want to select your second place option (Exacta). At this point you can either click on '+EXACTA' to place your bet or continue with a 3rd place (Trifecta) option.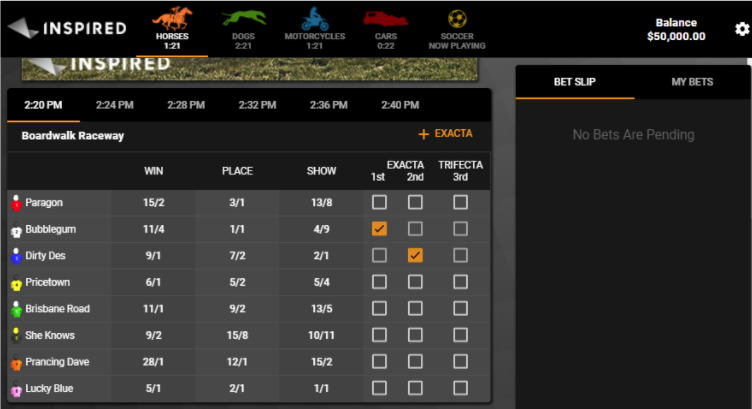 If you have chosen to pick a 3rd place option (Trifecta), click on '+TRIFECTA' to place your bet.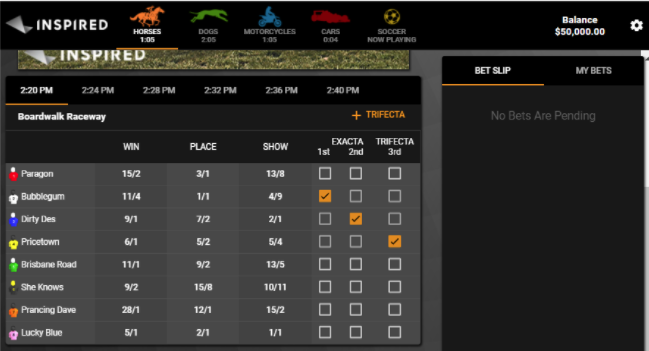 Once you have selected either '+EXACTA' or '+TRIFECTA' you will be able to pick the denomination of your bet and place the wager. Then you are off to the races!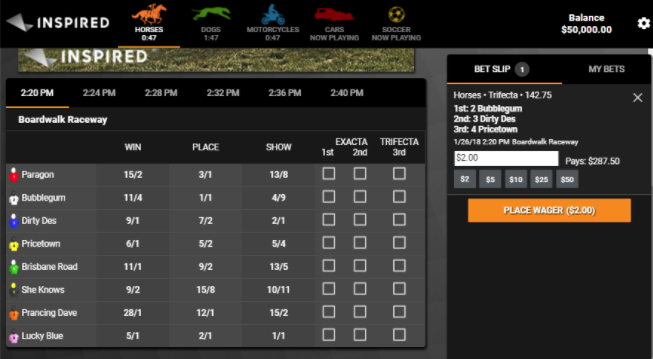 Please note: Selecting your options and placing your bet for Virtual Motorcycles is similar, except +EXACT (1st and 2nd place) is the only option.